DVD lovers who have a large collection of DVDs may be interested in knowing the best way to save DVD content. The best way is to copy them or back up DVDs to a PC or hard drive. Well, it's easy for homemade DVDs, but not for commercial encrypted DVDs.
So, how to rip and copy protected DVDs to a PC or hard drive or even blank discs for backup. The natural way out of this problem is to seek the help of secure DVD ripping software to have a backup or even digital formats such as MP4, MKV, etc. Meanwhile, ripping protected DVDs to create backups on a computer or hard drive is also convenient and useful.
This article will list 3 different best ways how to copy a DVD on your PC. Skip to the next parts to read the development.
Before you go, let's see what DVD copy protection is. Generally speaking, a copy-protected DVD is a DVD that implements some kind of protection mechanism when encoding video to DVD. In most cases, commercial DVDs of movies, TV shows, and music albums are protected and encrypted, which prevents third parties from accessing and distributing the content. Currently, the most commonly used protections include the following.
Region Code: There are 8 DVD region codes available. A regionally protected DVD means that it includes regional coding that prevents the disc from being played outside of a particular country or region.
CSS (Content Scrambling System): This is a digital rights management (DRM) and encryption system used to prevent illegal copying or piracy of DVDs.
Disney X-Project DRM Protection: This is the copy protection technology invented by Disney for Disney, which strictly protects its brands and series products. Most Disney DVDs comply with this DRM restriction.
APS (Analog Protection System): This prevention system, developed by Macrovision, affects the AGC circuitry of the recording device and makes content inaccessible when you try to copy it.
ARccOS (Advanced Regional Copy Control Operating Solution): This copy protection system is developed by Sony and works with CSS which creates bad sectors on DVD. It keeps returning errors when the ripper and burner try to rip the video.
CPRM (Content Protection for Recordable Media): This content protection is developed by AC Entty, LLC. As the name suggests, this scheme is mainly for writing content to DVDs using a Media ID to encrypt data and a Media Key Block (MKB) to decrypt the disc.
In most cases, the commercial DVDs you purchase can be protected by one of the encryption methods. Thus, if you want to play them in case of scratching or losing them, you need to copy them to a new DVD first or to back up them as ISO files or DVD folders, and therefore you need to take into account secure DVD ripping software. Now we are going to introduce 3 ways to remove DVD copy protection to solve the annoying situation. Now you can follow the pace.
How to rip copy-protected DVD to PC/hard drive
Generally, instead of "rip DVD" we say rip or convert DVD to USB to make it more portable and more flexible to play on any device. VideoByte BD-DVD Ripper is the best solution as it supports ripping encrypted DVDs to digital formats including MP4, MKV, MOV, and so on.
Therefore, you can easily take them with you on a trip and kill time during the flight. And GPU acceleration technology makes its conversion speed always 6X faster than other products. What's more, it allows you to save all audio tracks and subtitles as well as add external ones.
Features of VideoByte BD-DVD Ripper
Easily rip DVD/Blu-ray discs with an intuitive interface.
Remove all protection systems from DVDs and Blu-ray discs.
Speed ​​up the process up to 6 times faster with speed-up technology.
Keep lossless video and audio quality as the source.
Support for digitizing discs in more than 300 major formats.
Keep all original subtitles and audio tracks.
Steps to Copy a Copy-Protected DVD (to USB/PC/HDD)
Copy to video/audio/ISO/folder
Click "Rip All" to start ripping DVD/Blu-ray discs.
How to Backup DVD to PC/Hard Disk/Blank Disk
If you don't find it necessary to rip copy-protected DVDs to digital formats, VideoByte DVD Copy makes it easy to directly copy homemade and protected DVDs to blank discs, hard drives, or ISO files at native 1:1 quality. It comes with three different copy modes which allow you to select the parts of the DVD to be copied. What's more, it has a built-in DVD player that allows you to preview each chapter before starting the process.
Features of VideoByte DVD Copy
Easily decrypt all DRM protection mechanisms.
Backup DVD to hard drive as Video_TS folder or ISO files.
Rip DVD while maintaining the best original quality.
Support all kinds of blank DVD types.
Select your preferred subtitle and audio to save.
Provide 3 copy modes to customize your output.
The following is a simple solution on how to rip protected DVDs to a PC, I will take "save as ISO image files" as an example, please check.
Step 1. Import source files
When you have downloaded and installed the DVD copy of VideoByte on your computer, launch the program to enter the main interface. Click " File " and then " Select Source " to import the DVD. It usually takes a few minutes to download files.
Step 2. Choose the target format
After importing the files, the program will automatically decrypt and load the contents onto the DVD copy. Then you can select " target " and select the desired output format. Here you need to select " Save as ISO ".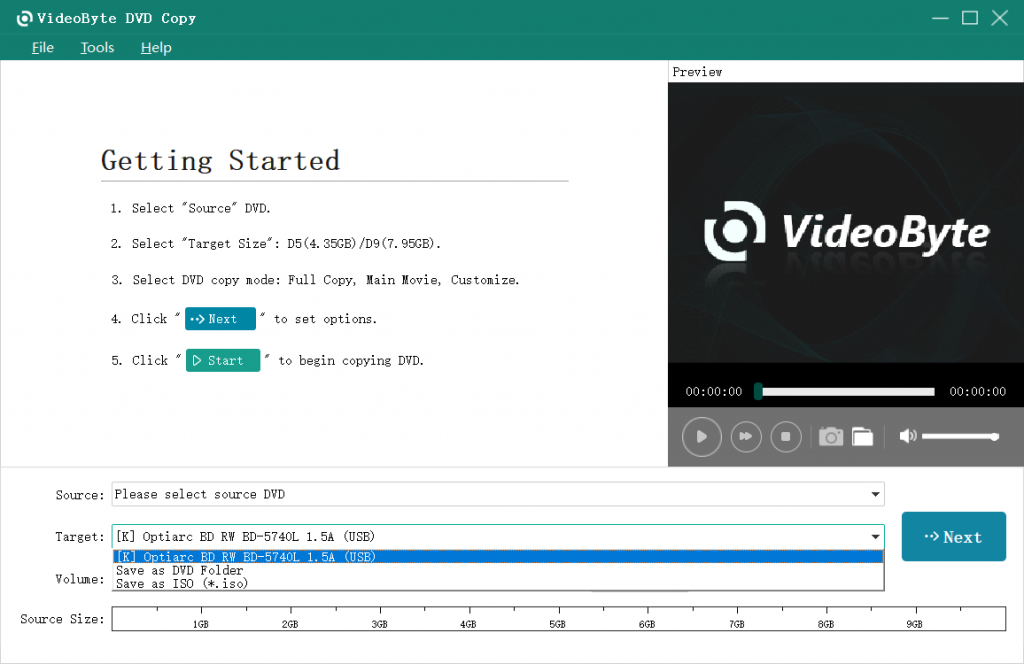 Step 3: Select a copy mode
There are 3 copy modes, including " Full copy " which means copying the entire DVD disc; " Main movie " which means copying only the main movie; and " Settings ", which means copying parts of the DVD that you like.
Step 4: Start Ripping the Protected DVD to the PC
Finally, when all the settings are done, you can simply click on the " Start " button to copy the DVD movie to your computer.
When it's finished, find the DVD files in the target folder and you can do whatever you want with the files, like transfer them to your hard drive.
Please note that if you want to copy a protected DVD to a new DVD, whether you have 1 or 2 drives, you can easily follow the steps above to copy DVD movies to a new blank DVD in a ratio of 1:1. All you have to do is copy the DVD movie to an ISO image and then burn the ISO image to a new blank DVD.
Note: VideoByte BD-DVD Ripper also supports copying protected DVDs to the ISO Image/VIDEO_TS folder for backup. Because it's a simple operation, you can directly choose VideoByte BD-DVD Ripper to help you. But if you need to burn DVD content to another disc, just use VideoByte DVD Copy.
How to use HandBrake to rip protected DVDs for free
How to rip a protected DVD for free? If you want to rip DVDs on Windows 10 for free, don't miss HandBrake. It is a free and open-source video transcoder that works on Windows (Windows 10 only), Mac, and Linux. It has a number of built-in device presets and output formats including MP4, MKV, WebM, AAC/HE-AAC, MP3, FLAC, AC3, E-AC3, Opus, and Vorbis. However, it does not currently support ripping a protected DVD without the help of a decryptor.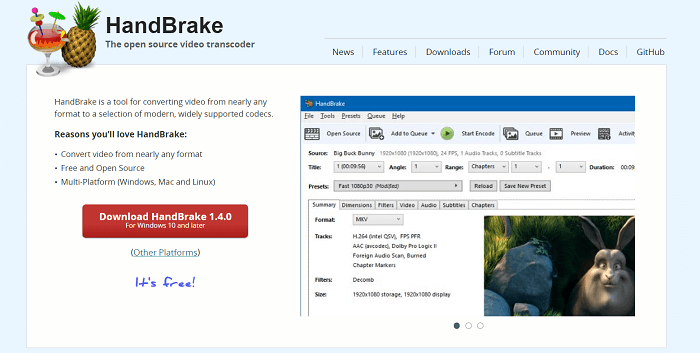 Next, we will show you how to rip a protected DVD with Handbrake. There will be no 100% success. If you want a more reliable way, we recommend that you choose Videobyte DVD Copy which we mentioned in the second part.
Step 1. Download the third-party libdvdcss decryptor and copy it to the C:\Program Files\Handbrake folder.
Step 2. Open Handbrake and download the source file from the "Source" button. Libdvdcss automatically reads and decrypts DVD copyright protection.
Step 3. Select the title you want to copy and set the output format. Click on "Start" and just wait for the output file.
Comparison of the two best ways to copy protected DVDs
Before you view the comparison chart, you may need to know the main differences between Awesome and Hot. These are terms related to online media storage and conversion forms.
Rip: Transfer content from a disc and digitize it to MP4, MKV, MP3, AAC, or any other format, making it easier and more convenient to play them on PC, smartphone, and media players.
Burning: Unlike copying, this refers to moving content stored on a PC and burning it to a DVD or Blu-ray disc where the files are stored in a folder or list. Then you can easily enjoy playing media files after the recording process is completed.
Therefore, there are actually differences between HandBrake, VideoByte DVD Copy, and VideoByte BD-DVD Ripper. First, HandBrake should work with a third-party decoder to digitize DVDs to popular formats, but it cannot burn DVDs to blank discs or ISO image files. As for VideoByte DVD Copy, it cannot rip DVDs to digital formats. However, VideoByte BD-DVD Ripper, being the most powerful one, can do everything you expect. Now you can take a look at the comparison table for a better understanding.
Product

VideoByte BD-DVD Ripper

Video Byte DVD Copy

handbrake

Cooking

A. Your own DVD
b. DVD drive
c. Windows 7/8/10, Mac OS X 10.7 or higher

A. Your own DVD
b. DVD drive
c. New blank disk
e. Windows 7/8/10, Mac OS X 10.7 or higher

A. Your own DVD
b. Third-party decryptor.
V. Windows 10 and above, Mac OS X 10.13 or above

How it works

stunning

Burning

digitization

Easy to use

√

√

×

Output Format

DVD folder, ISO file

Audio: FLAC, WAV, WMA, AAC, MP3, etc. Video: MKV, MP4, MOV, etc.

DVD disc, DVD folder, ISO image file

MP4, MKV, WebM, AAC/HE-AAC, MP3, FLAC, AC3, E-AC3, Opus and Vorbis

DVD/Blu-ray disc support

Both

DVD

DVD only

Copy protection processing

√

√

×

The best thing

Rip homemade/protected DVD or Blu-ray to digital formats such as MP4, MKV, FLAC, AAC, MP3, etc.

Copying homemade/protected DVDs to a new blank disc or ISO image

Digitize DVD on Windows 10 for free
Frequently Asked Questions About Ripping Protected DVDs to PC
You may have unresolved questions about copying protected DVDs. You should then review the following FAQs to clear your doubts.
Can I copy copy-protected DVDs?
Is it legal to rip copy-protected DVDs? Can I copy copy-protected DVDs? You can find many similar questions on Reddit and Quora, but all got NO answers. As a general rule, if you use copyrighted content for commercial purposes, it is 100% against the law. However, if you're just using some of the best DVD decryptors to rip protected DVDs for personal use, education or charity, it's safe if it's not profitable.
Can I copy region-locked DVDs?
Region-locked DVDs make it impossible to play discs outside of a specific country or region with region code encryption. However, region codes are also one of the security mechanisms that can be easily removed by professional rippers. Therefore, if you want to enjoy region-free playback, you should turn to a reliable ripping program and unlock region-locked DVDs to a computer first.
Can VLC rip protected DVDs?
Yes, partially. Although it mainly works as a media player, it can rip DVDs, including some copy-protected discs, to digital files. But the process is more complicated than Handbrake. Break time is longer. We do not recommend that you try this.
Can MakeMKV rip copy-protected DVDs?
Yes, but not always. MakeMKV provides a certain free period for DVD ripping for 30 days. After that, you need to purchase a registration code. It only supports converting DVD to MKV files, which are always quite large. Currently, it does not provide the ability to convert audio, and DVD ripping will take a long time.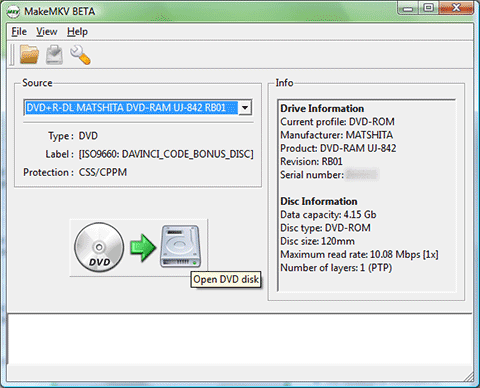 Just follow the steps below to start DVD ripping:
Step 1: Launch MakeMKV and insert your DVD.
Step 2. After MakeMKV successfully detects the disc, click the big DVD icon to start scanning all DVD titles.
Step 3. From all the titles of the disc listed on the left sidebar, select the ones you need based on your needs.
Step 4. If your DVD contains multiple audio tracks or subtitles, double-click the movie title for more options. Then choose whether to keep all items or not.
Step 5. Click the " Folder " button to select a location for the output files, and then click " Make MKV " to start the ripping process. It usually takes 10 to 30 minutes, depending on the type of disc, selected content, and processor status.
In a word, if you are using Windows 10 and want to make a free copy, using HandBrake to copy protected DVDs is a good idea. However, HandBrake does not perform the decryption alone and supports fewer video formats. In addition, it does not support Blu-ray discs and takes much longer to complete the conversion.
VideoByte BD-DVD Ripper stands out as the best choice if you want to digitize copy-protected DVDs to all formats or backup DVDs to hard drives, blank discs, DVD folders, and ISO files. What's more, it can save all subtitles and audio tracks, not to mention flash-like ripping speed.